Håndgemeng & Suncraft
14/01/2023
@
21:00
–
23:00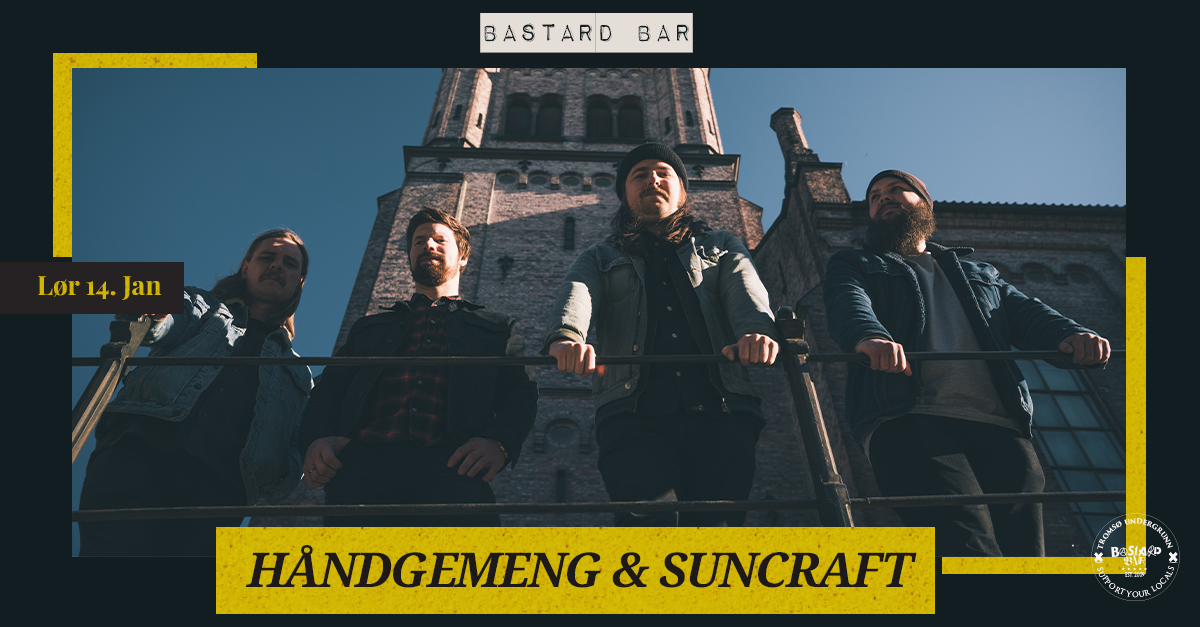 Tung doom 'n' roll fra Oslo og omegn. Om du blander den klassiske rocken fra 70-tallet med den tyngre stoner doomen fra 90-tallet og litt hardcore på toppen av det hele, så stiger Håndgemeng ut av gryta. Riff etter riff vil Håndgemeng bryte alle sjangergrenser og ta deg med fra det dypeste Helvete til det fjerneste kosmos, bli med på okkulte ritualer og kosmiske eventyr.
Mens verden sto stille skrev og spilte Håndgemeng inn debutalbumet sitt «Ultraritual» og fikk like etter platekontrakt med Amerikanske Ripple Music som er et av verdens ledende plateselskaper innenfor stoner, doom, heavy psych og heavy rock. Denne plata består av åtte sanger som tar deg med på en reise gjennom tid og rom, og inn i det okkulte.
Engelsk:
High octane doom 'n roll hailing from the Norwegian tundra. A little bit of classic rock inspired by the riff masters of the 70s, brewed together with the wizardry of the slow and heavy riffs of today's stoner doom. Out of the cauldron rises Håndgemeng.
Riff after riff, spliff after spliff Håndgemeng will take your from the depths of hell to the farthest reaches of space.
Håndgemeng was formed in Oslo, Norway in 2017 by brothers Martin and Filip Wennberg on vocals and bass, Charlie Ytterli on guitar and Ola Holseth on drums. They had played together in different hardcore and punk bands in the early days, but the puzzle pieces didn't come together until Håndgemeng was formed and the riffs got slower and the amps got louder. In 2019 they released their first EP "Motorcycle Death Cult" followed by the "Grim Riffer" EP. Håndgemeng played shows constantly and became someone to take notice of in the underground scene in Oslo. After parting ways with bassist Filip Wennberg, longtime friend Kim Grannes took over as bass player in Håndgemeng. Then the writing and recording of their debut album began. And just when Håndgemeng started making their debut album, society collapsed and the world went into a global lockdown. Coincidence? I think not…
Still, from that darkness the band wrote and recorded ULTRARITUAL, eight songs that will take you on a cosmic journey spanning over millions of years. Soon after Håndgemeng got signed to the American record label Ripple Music, one of the world's leading purveyors of heavy psych, stoner, doom and heavy rock. The album is set to be released march 2023.
Join us!
We have already sold our souls to the devil, fame and glory awaits, and then Hell…
Let the ritual commence.