White Trash Blues Band & Sonic BoomBooms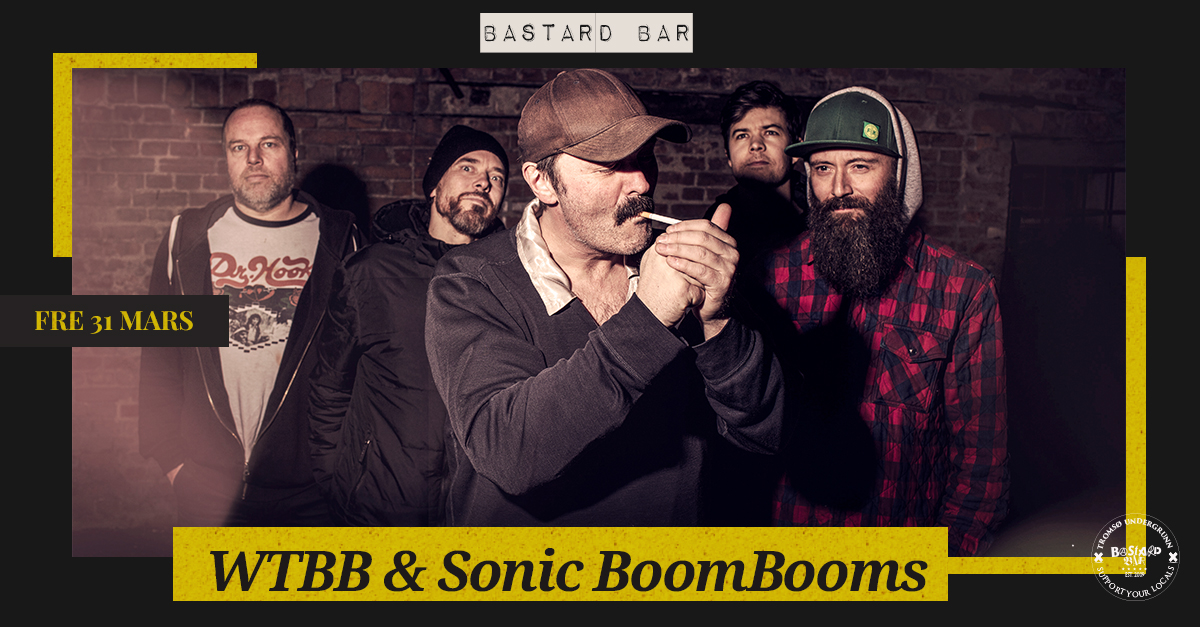 WHITE TRASH BLUES BAND
White Trash Blues Band starta av 5 middelaldrande menn som strekker strikken, kompiser som starta band for å ha ei unnskyldning for å henge ut i øvings og drekka øll og prate sjit. Dei spelar rock&roll ispedd litt punksoul. Noko du kan sjølv sjekke ut på deira debut fullengder We Got Time To Waste (utgitt på Blues For The Red Sun) som har fått glimrande tilbakemeldingar frå bl.a. Tyskland, UK og Norge.
SAGT OM WE GOT TIME TO WASTE:
En norsk rock&roll klassiker er født
Da gjenstår det bare å ta av hatter, burkaer, skiluer og kipaer for WTBB. Et debutalbum som dette er det ufattelig få norske band som har levert. We Got Time to Waste er en klokkeklar instant classic her hos The Wilhelmsens, og nå gleder vi oss bare til delta, omikron og annen faenskap er historie, reising blir normalisert, koronatester noe vi har vage minner om, og konserter blir for folk som kan bælme innpå øl, hoppe rundt, svette og brøle uten ansiktsmaske. Da står WTBB høyt på lista over band jeg skal se.
– The Wilhelmsens
How snotty garage punk should be today.
– 9/10 brustatt.de
Very tide well-rocking record.
– 8/10 reverbisforlovers.com
Wonderfully dirty and direct.
– terrorverlag.com
Sometimes snotty and abrasive, sometimes soulful and groovy.
– Clear Spot
Spit in the can and get your boots on! This will drag you through the mud, and youll fucking love it.
– Billy Bob Bogan
There are songs on this album that genuinely lift your mood! Original and genuine quality Rock&Roll is sometimes hard to find, but for me, White Trash Blues Band have nailed it!!!
– Paul Cash, Pure Rock Fury
Sonic BoomBooms ble startet under pestens mørke skyer og tryna relativt fort inn i live kaoset da himmelen ble blå. Bandet spiller en go blanding av pønk og blues men er ikke redd for å se til andre ting som country, satan og brennevin for inspirasjon.
Bandet består av Lars Haugen ( gitar og banning ), Rune Tørhaug ( trommer og glising ) og Jøran Normann ( bass og øldrikking ).
Som live band har de også møtt strålende kritikker:
«Who the fuck are these guys?» – Kjell Elvis
«Glad I'm not alive to see this» – Robert Johnson
«Ska du kje få dæ skekkele arbei?» – Far til Lars
«NÅ flytter jeg til Sveits, dette gidder jeg ikke se på» – Kjell Inge Røkke